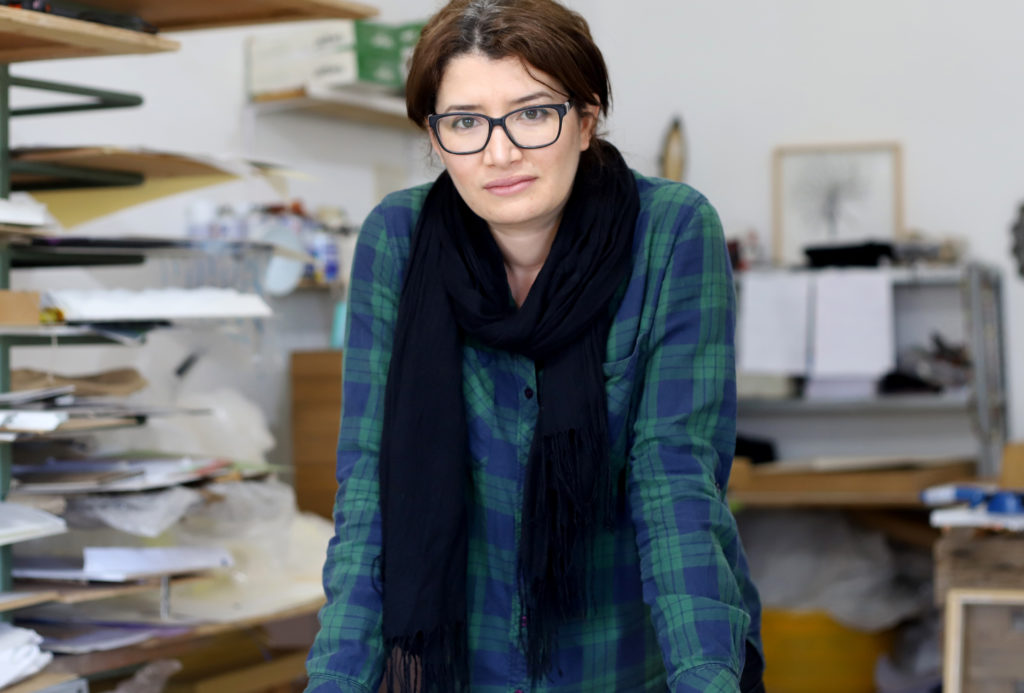 Najah Zarbout née en 1979 à Médenine (Tunisie) • Vit et travaille à Sousse (Tunisie)
Najah Zarbout est originaire de Kerkennah (Tunisie). Après des études à l'Institut Supérieur des Arts et Métiers de Sfax, elle est reçue à l'Université Paris I Panthéon-Sorbonne où elle obtient un doctorat en Arts et Sciences de l'Art. Elle occupe actuellement un poste de maître-assistant à l'Institut Supérieur des Beaux-Arts de Sousse.
Zarbout s'intéresse à des sujets liés à l'actualité, à l'individu et à la société contemporaine. Ses réalisations plastiques traitent du rapport à l'autre dans ses différents aspects. Elle propose ainsi une métaphore de l'humain dans sa soumission ou sa désobéissance et invite le spectateur à un voyage imaginaire à travers la matière du papier. Derrière ses œuvres à priori ludiques, se cachent des sujets profonds et osés.
Sa pratique artistique prend des formes diverses, allant du dessin à la vidéo, en passant par la photographie et l'installation. Elle développe, depuis quelques années, une démarche axée sur le découpage. Du gaufrage au pliage ou à la lacération, dans des combinaisons diverses mêlant lumière, lignes et entailles, elle provoque un dialogue avec le papier.
En 2018, Najah Zarbout a représenté la Tunisie à la Biennale de Dakar (Sénégal). En plus d'un nombre important d'expositions personnelles et collectives, son travail a été montré dans plusieurs foires et salons en Tunisie et à l'étranger (France, Suisse, Belgique, Maroc, Koweït, etc.). Elle est lauréate du Grand Prix Arts Plastiques du festival «Ici et demain» en 2008 (France). Ses oeuvres sont présentes dans la collection de l'Etat tunisien et dans plusieurs collections privées en Tunisie et à l'étranger.
.
Najah Zarbout was born in 1979 in Medenine (Tunisia) – Lives and works in Sousse (Tunisia)
Najah Zarbout is originally from Kerkennah (Tunisia). After studying at the Institut Supérieur des Arts et Métiers in Sfax, she was accepted at the University of Paris I Panthéon-Sorbonne where she obtained a doctorate in Arts and Sciences of Art. She currently holds a position as a lecturer at the Institut Supérieur des Beaux-Arts in Sousse.
Zarbout is interested in subjects related to current affairs as well as the contemporary individual and society. He achievements in plastic arts deal with the relationship to the other in its various aspects. She thus proposes a metaphor of the human being in his submission or his disobedience and invites the spectator to an imaginary journey through the medium of paper. Behind her works, which seem to be playful, are hidden deep and daring themes.
Her artistic practice takes various forms, from drawing to video, through photography and installations. For the past few years, she has been developing an approach based on cutting. From embossing to folding or laceration, in various combinations mixing light, lines and notches, she provokes a dialogue with paper.
In 2018, Najah Zarbout represented Tunisia at the Dakar Biennale (Senegal). In addition to a significant number of solo and group exhibitions, her work has been shown in several fairs and exhibitions in Tunisia and abroad (France, Switzerland, Belgium, Morocco, Kuwait, etc.). She is the winner of the Grand Prix Arts Plastiques of the festival « Ici et demain » in 2008 (France). Her works are present in the Tunisian State collection and in several private collections in Tunisia and abroad.